Of all the immense engine-wars that raged in the Horus Heresy, none was greater, or more devastating, than the battle of Beta-Garmon. In that star system, the last Imperial fortress world before the traitor fleets reached Terra, entire Titan Legions and Knight Households clashed for supremacy in battles that rendered worlds uninhabitable and ended legacies of honour that stretched back millennia. It was not for nothing that the battle became known to history as the Titandeath…
This Adeptus Titanicus: The Horus Heresy expansion introduces the background of the Beta-Garmon campaign. It also provides a wealth of new rules and missions to use in your campaigns, including new maniples, Legion rules and a complete campaign system based on the events at Beta-Garmon.
Inside this volume you will find:
– An overview of the war for Beta-Garmon
– Background and Legion-specific rules for 8 Titan Legions: Astorum, Defensor, Atarus, Solaria, Mortis, Krytos, Fureans, and Vulpa
– Full colour examples of Titans from each Legion
– Four new maniples: Corsair, Janissary, Regia and Lupercal
– Six narrative missions based on the greatest battles of Beta-Garmon
– Rules for organising an Adeptus Titanicus campaign
– Guidelines for map campaigns and terrain types
– How to build and maintain a Titan battlegroup across multiple games
– Rules for hostile battlefields based on conditions in Beta-Garmon
– A list of Knight Houses that fought in the Titandeath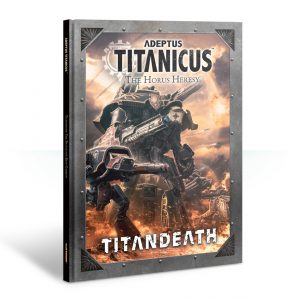 Prijs: € 29.00
---
Ter info: Hermelijn.be is geen webshop. Prijzen en voorraad kunnen varieren, en zal altijd nagevraagd moeten worden bij ons.