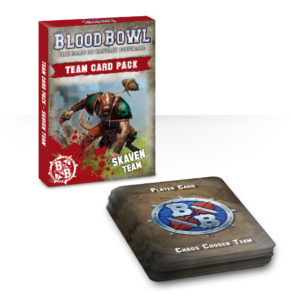 This is a pack of 44 handy reference cards for a Skaven Blood Bowl team, along with blank cards allowing every coach to create their own players! Contained in the pack:
– Reference cards for Lineman, Gutter Runner, Thrower, Blitzer and Rat Ogre.;
– Reference cards for the following Star Players: Glart Smashrip, Hakflem Skuttlespike, Kreek Rustgouger;
– The following blank cards that you can use to create your own players: 10 Linemen, 6 Gutter Runners, 3 Throwers, 3 Blitzers, 2 Rat Ogres;
– A team roster card, with match record on the reverse;
– The following 10 Special Play cards: Assassination Attempt, For Whom the Bell Tolls, Warpstone Dust, Rat Race, The Musk of Fear, What's It Made Of?, Concussion, Warp Lightning, Total Eclipse, Fleas!;
– The most important card: a card explaining how to use the other cards.
Prijs: € 20.00
---
Ter info: Hermelijn.be is geen webshop. Prijzen en voorraad kunnen varieren, en zal altijd nagevraagd moeten worden bij ons.