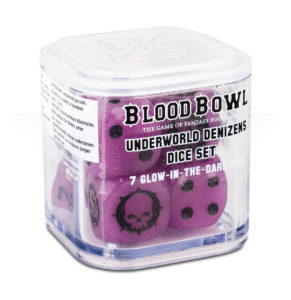 The perfect companion to your Underworld Denizens Blood Bowl team, this set of handsome dice in clear purple (that glow in the dark!), and feature Underworld Denizens team icons in place of the 6, includes:
3 Blood Bowl Block dice
2 6-sided dice
1 8-sided die
1 16-sided die
Prijs: € 10.00
---
Ter info: Hermelijn.be is geen webshop. Prijzen en voorraad kunnen varieren, en zal altijd nagevraagd moeten worden bij ons.