When ascension day comes, no chances can be taken by the forces of the Genestealer Cults. And with this dice set, themed around the cults, there will be no chances, and no failure…
Okay, we can't promise these dice will always succeed, but they will indicate your allegiance to the Genestealer Cults, and come complete with the faction's icon on one face.
This is a set of 20 6-sided 16mm dice. Designed with square edges, these dice have grey bodies with a purple gem swirl effect on each face and the pips picked out in red. Each dice features the icon of the Genestealers Cults on the '1' face – this matches the original Genestealer Cults dice set, so if you have the original set you can use both together without any confusion.
bron : https://www.games-workshop.com/en-BE/Genestealer-Cults-Dice-2019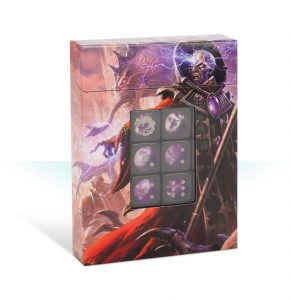 Prijs: € 22.50
---
Ter info: Hermelijn.be is geen webshop. Prijzen en voorraad kunnen varieren, en zal altijd nagevraagd moeten worden bij ons.